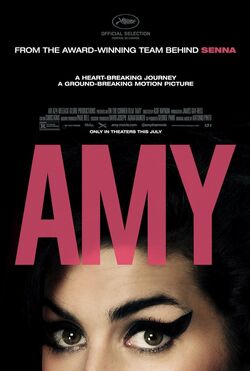 Amy is a British documentary film depicting the life and tragic death of singer-songwriter, Amy Winehouse. It is directed by Asif Kapadia, produced by Universal Music, Playmaker Films & Krishwerkz Entertainment and distributed by the Altitude Film Distribution.
The film received a theatrical release on July 3, 2015 in the United Kingdom and United States and was then released worldwide on July 10. The film depicts Winehouse's life largely from the standpoint of her struggle with substance abuse problems both before and after her career began to blossom, and which eventually caused her premature death.
Mitch Winehouse, father
Janis Winehouse, mother
Raye Cosbert, manager
Nick Shymanksy, ex-manager
Blake Fielder-Civil, ex-husband
Darcus Beese, A&R of Island Records
Mos Def (credited as Yasiin Bey), friend
Tyler James, friend
Juliette Ashby, friend
Lauren Gilbert, friend
Pete Doherty, friend
Blake Wood, friend
Mark Ronson, Winehouse's producer
Salaam Remi, Winehouse's producer

Tony Bennett, friend
Questlove, friend
Andrew Morris, bodyguard
Chris Taylor, ex-boyfriend
Sam Beste, pianist
Ian Burrer, guitarist
Alex Rosen, hairstylist
Cristina Romete, doctor
Chip Somers, drug counselor
Phil Meynell
Monte Lipman
Lucian Grainge, head of Universal Music Group
Guy Moot
Nick Gatfield
Shomari Dilon
Dale Davis
Community content is available under
CC-BY-SA
unless otherwise noted.